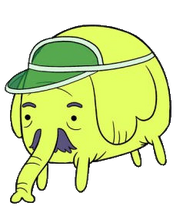 Tail Tufts
is a gender swap of Tree Trunks.
Little is known about Male Tree Trunks, but in the theme song in the episode "Fionna and Cake," he is shown briefly in the Candy Kingdom.
Appearance
Tail Tufts is seen with a gray mustache and a green, see-through visor. He also has a few wrinkles on his trunk. This may imply that he is also old, like his female counterpart. He also wears a bright blue ribbon on his tail. He has thicker eyebrows than Tree Trunks.