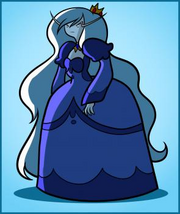 The Ice Queen is the gender-swapped version of the Ice King, created by the original series designer, Natasha Allegri. She has winter/ice-related powers like Ice King, that originates from her tiara. She makes her first appearance in the episode "Fionna and Cake."
Personality
The Ice Queen is far more cruel, evil, and aggressive than the Ice King. She uses far more violent and complex means to get her way than the Ice King does; such as tormenting Fionna with a wild scheme in order to put her out of commission, leaving her free to obtain Prince Gumball, but inevitably fails.
Appearance
The Ice Queen has light blue skin, long white hair, and long lightning-shaped eyebrows. Her hair, while also long like the Ice King's beard, is wavy with curls instead of shaggy. She wears a small gold tiara with red gems and a neck band (incrusted with a single blue gem in the center), a blue long sleeved ball gown, and light and dark blue shoes (which cannot be seen often).
Gallery